Why build an investment portfolio with Crowd2Fund?

Improve your returns
Until now, it's been difficult for retail investors to access the UK's SME market. Crowd2Fund opens this market to everyone. We believe sophisticated investors should enjoy the same opportunities as the big investment houses. An investment through Crowd2Fund contributes to a stronger UK economy, and some opportunities are supported by powerful tax incentives.

Join our Investor Club
It's is an exclusive invite-only offer to sophisticated investors who have funded multiple campaigns on the platform. You will be invited to exclusive events and have access to special perks. Read more.

Access to your capital
If you need access to your capital you may be able to sell your investment to another investor on our exchange. Alternatively if you are looking for phenominal deals you can purchase investments from other investors who are keen to sell. Learn more here.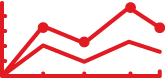 The data to inform your decisions
You want to make decisions quickly, simply and reliably. The Crowd2Fund platform puts critical information about every investment into an easily-digestible format.
Understand our APR

The tools to build your portfolio
Diversity is essential in any portfolio, and the Crowd2Fund platform has been created with this in mind. By offering the widest range of investment products in the peer-to-peer market, you can build a well-balanced portfolio tailored to your personal risk appetite and investment strategies.

The diligence you need on quality investment opportunities
The decision to invest is always yours, but it's our responsibility to offer only the very best investments. The Crowd2Fund risk team reviews each deal before presenting it to investors.
More details of our due diligence process for applications can be found here.
Crowd2Fund Limited is authorised and regulated by the Financial Conduct Authority (FRN 623683). Crowd2Fund Limited is registered in England and Wales.

Crowd2Fund takes compliance and security seriously
Our compliance team ensures that every investment opportunity is presented clearly and factually, and that every aspect of the platform complies with UK regulations. Our platform undergoes regular security health checks to look after your data and finances.

Help at the end of a phone line
You can always reach us on the phone between the hours of 9:00 – 18:00 Monday to Friday.
We can't provide investment advice but can help you with anything else.

Target
£106,400
Raised
£66,761
Term
36 months
Risk
Higher than average score
APR*
10%
Risk warning
Investments like these involve risks including loss of capital. Please see our
risk
section before making an investment decision